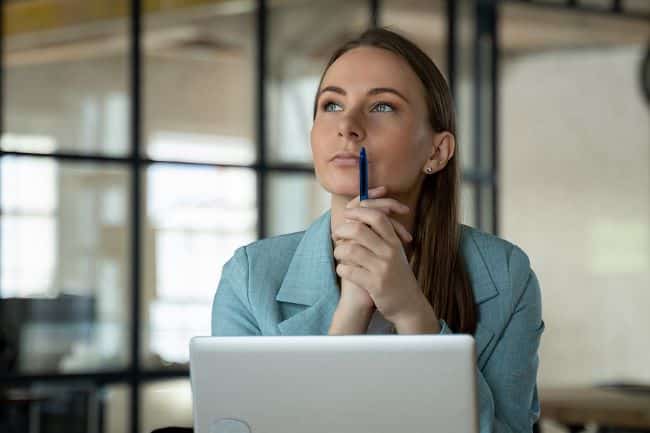 "I want to sell insurance, but I don't know how to get started."
This is something that insurance agents hear, and it's easy to see why. Selling insurance is a great career! If you think it might be the right choice for you, don't just wonder if you could really make it work. Keep reading to learn how to get started.
Insurance Industry Careers
Whether the economy is strong or headed for a recession, people will always need insurance. This makes the insurance industry a solid choice for anyone who wants a career with a future.
According to the U.S. Bureau of Labor Statistics (BLS), there are 523,200 insurance sales agent jobs as of 2021, and this number is expected to rise 6% between 2021 and 2031. The insurance sales industry is growing, and that means there will be job opportunities in the future.
BLS says that the median pay is $49,840 a year, and that you only need a high school diploma or equivalent and moderate-term on-the-job training to get started. Keep in mind that the BLS salary figure is the average, and it includes different types of insurance agents. Indeed says the average annual income for an independent agent is $82,515.
What Do Independent Agents Do?
Insurance sales agents can be captive agents who work for a single carrier or independent agents who contract with multiple carriers. Being a captive agent might be a little easier because you only have to deal with one insurance company. However, as an independent agent, you can offer your clients more choices, and that helps you make more sales. Independent agents also tend to have a higher earning potential, but exactly how much money they pull in depends on how many sales they make and what type of commissions they earn.
Independent agents, also called insurance brokers or insurance producers, are generally considered self-employed independent contractors. They have a lot of control over when and how they work, and if they're successful, they reap the rewards themselves.
Independent agents need to meet their state's insurance licensing requirements, and they need to work with carriers to sell their insurance products. They may spend a lot of time marketing and meeting with clients and prospects. There can also be some paperwork involved, for example, applications and enrollments.
Is Insurance the Right Fit for You?
Before you get too far, take a moment to decide if being an independent insurance agent is really the right career for you.
Do you like working with people? Insurance brokers spend a lot of time working with people. You'll need to network, find prospects, schedule client meetings and follow up with prospects. If that sounds good, insurance might be a good option for you.
Do you want to be your own boss? As your own boss, you get to be in control of your career, and you have a good earning potential. However, insurance agents get paid commissions, meaning you have to make sales to make money. If you'd rather have someone telling you what to do and paying you a regular wage, you might not want to be an independent agent.
Are you organized? You need to manage your time and make sure your applications are correct. If you can do that without missing deadlines or forgetting to follow up, you might be cut out for a career as an insurance agent.
What Type of Insurance Do You Want to Sell?
There are a lot of different types of insurance. There's commercial insurance for businesses and personal insurance for individuals. There's also life insurance, health insurance, disability insurance, auto insurance, homeowners insurance – and those are just a few of the most common insurance policy types.
As an independent agent, you can sell multiple types of insurance, also called lines of insurance. However, when you secure your state insurance license, you'll typically need to get licensed as a specific type of insurance agent, such as a life and health agent or a property and casualty agent.
A property and casualty insurance sell products that include homeowners insurance, renters insurance, auto insurance and business insurance. As a property and casualty agent, you can work with both individuals and business owners.
A life and health insurance agent sells life and health insurance as well as products like disability insurance and critical illness insurance. As a life and health insurance agent, you will work with individuals, but you can also work with business owners who need coverage options for themselves, their businesses and their employees.
You don't have to pick just one. You can get licensed to sell life and health insurance and property and casualty, as well as other types of insurance products.
How to Get an Insurance License
You'll need to get an insurance license in order to sell insurance. Check with your state's insurance department to see what the requirements are. This usually involves taking a course, passing a test, and completing the application for a license.
In New York, for example, the Department of Financial Services says you need to be at least 18 years old, compete the education requirements, pass the examination, submit a license application and pay the license fee.
Check with your state to see where you can complete your education requirements, including pre-licensing and continuing education. For example, the New York Department of Financial Services has a list of approved education providers.
Finding Support
Getting access to insurance products and marketing to prospects can be hard, especially when you're just starting out. Although independent agents are independent contractors, they still tend to need support.
There are different types of organizations that help independent agents by providing access to carriers and quotes as well as marketing materials.
Before you decide to work with an organization, make sure you understand what you're agreeing to. For example, do you have to be exclusive? Do you have to pay fees? What kind of commission will you get? How can you end the relationship? What do you get out of the relationship?
Maximizing Your Income by Adding Disability Sales
As an independent agent, you'll earn commissions. This means you earn more if you sell more, and it's not just about selling to more people. You can also sell multiple policies to the same person.
Most people need more than one type of insurance policy, so cross-selling to your clients makes sense. For example, if you're selling life insurance, you should consider cross-selling disability insurance. This can be a great way to more than double your revenue.
Even if you're selling property and casualty insurance, you should consider expanding into life and health insurance and offering disability insurance. People buy insurance to protect valuable assets, such as their house or car. Homeowners insurance can protect a house from perils like fire, but it doesn't protect homeowners from the risk of foreclosure due to disability. For most people, their paycheck is their most valuable asset, so it makes sense to protect that, too.
Disability insurance provides paycheck protection. If the policyholder can't work because of a disability, disability insurance can replace a portion of their regular income. It's a vital insurance product, but not enough people are familiar with it. As an independent agent, you can help people secure the protection they need and establish yourself in a lucrative insurance niche by offering disability insurance.
Do you want to sell insurance? Disability Insurance Services offers fast quotes from top carriers, as well as marketing and sales tools designed to help you succeed. Get started.
Please follow and like us: