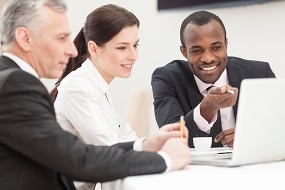 Agents – Believe it or not, your business owner clients probably know more than you do when it comes to planning for contingencies.
For example … What if a major order gets canceled at the last minute? What if the order is delivered but the customer goes out of business and never pays for the product? What if a labor strike at the port causes a significant increase in the cost of goods produced? These are all questions your clients have pondered, wrestled with and answered. It's just part of being competitive and staying afloat in today's world.
However, despite their amazing agility, many business owners have not spent any time thinking about the most important question of all:  "What if I am unable to work due to illness or injury?"
This is where you come in. While your clients are masters of contingency planning, you know there is one fatal flaw in most of their plans. They forget THEY ARE NOT INVINCIBLE.  (Show them the Stat Pack Infographic so they know the truth.)
They will quickly see that disability happens more frequently than one might expect, and when it does …
Regular living expenses continue
Business expenses continue
Business income is often significantly impacted
In these "unable to work" scenarios, there is one tool that makes the difference between business failure and survival. The all-important Plan B is known as "BOE" – business overhead expense insurance.
So, talk to your business owner clients about the importance of BOE insurance. You can show them everything that's at stake simply by listing what's typically covered under a BOE policy:
employee salaries
employment taxes
employee benefit costs
rental payments for property and equipment
principal and interest on mortgaged business property
utilities
accounting and legal fees
business insurance expenses
interest on business debts
property taxes
general office supplies
How BOE policies work
BOE policies pay monthly benefits up to the policy's monthly coverage limit to cover many of the regular expenses listed above. BOE insurance benefits are reportable as income and premiums are usually tax deductible as a business expense. A BOE policy benefit period is typically short-term, from 12 to 24 months – just long enough to help the business manage the crisis of disability.
Cross selling opportunities
Of course, it's a good idea for all business owners to also have individual disability insurance policies. In addition, business owners may also want to consider key person insurance to protect the business if an owner or key person becomes disabled. And, buy-sell insurance is recommended particularly for businesses with multiple partners.
Your clients' small businesses represent the culmination of their hopes, dreams, and hard work. Help them keep their dreams alive by educating them about BOE – the often overlooked, but terribly essential Plan B.
Need an effective BOE sales presentation tool? Download our free client handout, "What Expenses Are Covered By BOE Policies?"
Click here for more information about DI for business owners.
Please follow and like us: