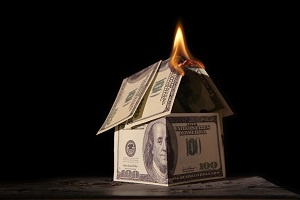 Now is a great time to buy a house. Homeownership is a dream for many, but it's also a major financial investment – one that you need to protect. That's why paycheck protection is especially important for homeowners.
The Housing Market Is Hot.
The housing market has gone a long way to recover from the troubles experienced around a decade ago.
According to the National Housing Market Indicators, national homes sales have been rising since 2014. In the first quarter of 2018, national home sales reached 6.35 million for the last four quarters, an increase of 3.5 percent compared to the prior four quarters.
The takeaway? The real estate market is hot once again.
According to the 2018 Q2 Homeownership Opportunities and Market Experience Survey from the National Association of Realtors, 75 percent of people think it's a good time to sell a house. It's not just a good market for sellers, either – 68 percent of people think that this is a good time to buy a house.
Some of Those People May Lose Their House.
Even with a strong economy, the risk of foreclosure remains.
Medical problems, including illness and injury, account for many of the financial problems that lead to foreclosure. In addition to expensive medical bills, people experience prolonged health problems are often unable to work. As a result, they aren't earning a paycheck when they need it most. It's not hard to see how this could lead to bankruptcy and foreclosure.
In one study, Medical Causes and Consequences of Home Foreclosures, 57 percent of home foreclosures had a medical cause.
Paycheck Protection Can Help.
When you're healthy, it's easy to imagine you'll always be healthy, but injuries, cancer and other conditions can strike at any time.
According to the Social Security Administration, a 20-year-old has a more than 25 percent chance of experiencing a disability before reaching retirement. According to the SSA's definition, being disabled means being unable to participate in gainful activity for at least one year due to medical issues.
In other words, one in four workers will have a disability at some point. One in four workers will be unable to earn a paycheck for at least a year.
Paycheck protection can help these people manage the financial fallout of losing an income. In the case of homeowners, it can make the difference between keep their home and being kicked out due to foreclosure.
Help Your Clients Find the Right Option for Their Budget.
First-time homebuyers are often cash-strapped after pouring all their resources into their new house, but different policy options can make paycheck protection affordable.
In many cases, the question may not be whether your clients can afford to purchase disability insurance – it's whether they can afford NOT to purchase it. Can they afford to risk losing their house if a disability occurs?
If full income protection is too much, at least encourage your clients to get enough protection to cover their mortgage.
Help your clients find the right level of paycheck protection for their budget. Provide them with three budget options by using this quote options worksheet.
Please follow and like us: