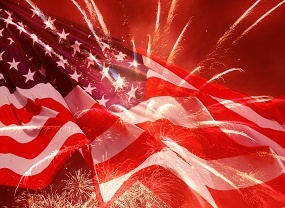 Sorry if the title is a bit misleading. This post is not a cautionary tale of danger. Wait. Maybe it is, if you haven't marketed your products and services as much as you had hoped for this year. The year is already half way complete. But don't worry, you still have six months of 2015 to make your disability insurance sales explode. How? I'm glad you asked. By celebrating July with content marketing fireworks!
What is content marketing? Quite simply, it is providing high-quality marketing content to attract and engage your audience as well as helping your website rank better in search engines. Your content can be audible and/or visual. Adding new and innovative content to your marketing plan will ignite a boom and skyrocket your prospecting and sales efforts!
To claim independence from boring materials, include some of these types of content in your marketing strategy:
Webinars.

Use webinars as an educational tool to introduce insurance topics or to focus on some difficult insurance concepts.


Social media posts.

Choose a social media outlet such as Twitter, Facebook, or LinkedIn to share, involve, and interact with an attentive audience.

Interviews.

Conduct an interview with another insurance professional and/or an actual client. Hearing or reading various perspectives and true DI life stories will help relate with potential clients on how DI can help them personally.


A blog.

By creating a blog, you give yourself a voice to display your insurance knowledge and expertise. Not only can your blog posts help your credibility,

but they will also educate people on the insurance industry and answer many client questions.




Videos.

YouTube has stated 1 billion unique users visit the video-sharing website every month. If nearly one out of two people on the Internet make, watch, and share videos, then you probably have a number of potential clients that would view your informative insurance videos from your website and/or YouTube channel.

Try experimenting with a few of the above marketing items and outlets, or if you feel daring, try them all! The items you choose to use for your content marketing are important, but what is even more important is knowing who your audience is and how that audience prefers to engage with you.
Last but certainly not least, make sure to include powerful call to actions within your marketing content so your audience will know how to take the next step.
Enjoy your Fourth of July and happy selling!
Need a disability insurance quote? Use our convenient online quote engine. Or, for a mobile experience, download our quoting app for iPhones.
Please follow and like us: