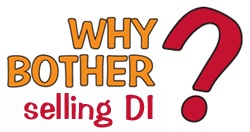 People count on financial planners for sound advice that will help them create a financially secure future. Unfortunately, many financial planners are leaving out a key piece of financial stability. Without a steady paycheck, most people's finances will fall apart quickly – so why aren't financial planners doing more to help their clients secure paycheck protection?
Most People Are on Thin Ice
Consider the following statistics:
The average person is living paycheck to paycheck with little in savings, medical costs are through the roof, and the odds of disability are higher than most people realize. The result? Most people are in a very precarious position. Even if they look like they're doing well and living comfortably, they might only be one illness or injury away from financial ruin.
Even people with some savings could be put in a difficult position if more than one disaster strikes. According to CNBC, 14% of Americans have wiped out their emergency savings since the pandemic began. For the average person, savings can only stretch so far.
Paycheck Protection Provides a Solution
With paycheck protection, people can plan their future knowing that they'll be covered even if an illness or injury prevents them from working.
Paycheck protection comes in many different varieties, including group, individual, simplified, own-occupation, any-occupation, and more. These variations make it possible to find coverage that meets the needs and budgets of many different workers, from doctors to athletes and executives to plumbers.
Are Your Offering Paycheck Protection?
If you haven't sold paycheck protection before, you might find the idea overwhelming. But as company DIS President, Dan Steenerson explains, "Of course, it's easier to NOT do things that are a little uncomfortable or difficult. But in my experience, some of the most difficult tasks are also the most worthwhile."
Disability insurance sales provide solid first-year and renewal commissions. In fact, DI brokers enjoy generous commission rates, up to 70 percent. So, if a broker sells two "professional" cases each month at $4,500, his or her annual income could be $75,600 or $891,000 over a 10-year period. And with the highest renewal rate in the industry – between 5 and 15 percent – those commission dollars really add up. In addition, disability insurance producers also benefit from a high persistency rate. DI stays on the books, earning commission for an average of 12.2 years versus 6.6 years for life insurance. The longer the client pays the premium, the more money the broker earns.
And with assistance from Disability Insurance Services, selling paycheck protection doesn't need to be overwhelming.
Please follow and like us: