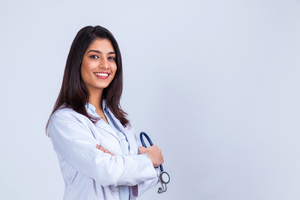 Do you want to sell disability insurance to doctors? Don't wait too long. One of the best times to target disability insurance candidates is when they're still in a graduate medical education program. Here's why you should be thinking about selling disability insurance for residents.
An Entire City's Worth of DI Prospects                  
Some professions might disappear, but we'll always need doctors. This means that we'll always need doctors-in-training, too.
Doctors have to complete a massive amount of training. After medical school, they start their graduate medical education program, where they work as resident doctors. The residency usually lasts for three to seven years.
According to AAMC, there were about 140,000 residents in 2020. The number of residents is about equal to the population of Dayton, Ohio. That's a lot of people who need disability insurance!
And yes, residents really can benefit from disability insurance. Here's why it doesn't make sense to wait to buy coverage.
Residents Already Have an Earning Power Worth Protecting
Residents are already earning a decent income. According to AAMC's 2021 Survey of Resident/Fellow Stipends and Benefits, the average annual stipend for first-year residents is $59,279, and the average stipend for seventh-year residents $75,728.
Of course, this income will increase. According to Doximity's Physician Compensation Report, doctors earn an average of $210,844 to $773,201 each year, depending on the medical specialty.
By purchasing a GME disability insurance policy with a benefit increase rider, residents can secure the coverage they need now and the option to increase coverage in the future.
Residents Can Lock in Coverage
Aspiring doctors typically graduate from medical school in their late 20s. This means that residents are usually in their late 20s to early 30s. They're still relatively young, and they're often healthy. This means that they can purchase disability insurance now to lock in good rates.
Residents can also qualify for guaranteed issue coverage. This means that even if they don't have to undergo a medical exam to secure coverage.
By purchasing a disability policy that's portable, noncancelable and guaranteed, residents can also obtain peace of mind. As long as they maintain they're policy, they'll always have disability insurance coverage – no matter where they end up working in the future or what medical conditions or other risk factors they develop. And because disability insurance policies are stackable, they can still combine their coverage with other policies, such as employer disability policies, to get even more coverage in the future.
You Can Access a Lucrative Income Stream
We've seen why residents shouldn't wait to purchase disability insurance. For the same reasons, you shouldn't wait to sell disability insurance to medical professionals.
Doctors are widely considered one of the top markets for disability insurance coverage. If you wait until doctors have completed their residency to start pitching to them, you might be too late. They might have already purchased a GME disability policy from another agent, and they might not want more coverage. You've missed out on a sale.
How to Get Started Selling Disability Insurance for Residents
When it comes to marketing to residents, timing is important.
Residency programs usually start in late June or early July. This means that new residents will be starting their program in early summer, while "senior" residents will be graduating their residency at that time. This is also the time when residents should secure disability insurance coverage.
In the fall and winter, you should focus on building relationships with graduate medical education programs and finding leads.
In the spring, you need to ramp up your marketing.
During the summer, you should focus on enrollment.
Watch out for enrollment deadlines! GME disability programs may require applications to be completed by a set deadline.
DIS is the original graduate medical education disability insurance provider. We have the experience and expertise needed to help you navigate this market. Contact us for assistance.
Please follow and like us: