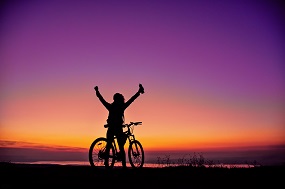 Last year I competed in my first (of what would become many) triathlons. I was new to endurance sports, with my only background being that I could swim, I owned a bike and I had run a few half marathons. I wanted a new challenge and my brother, an Ironman, recommend I give triathlons a shot. To be clear, it's totally possible to sign up and train for a triathlon completely on your own, regardless of your experience level—but that's not what I did.
I joined Team Challenge, an endurance and fundraising program (for the Crohn's and Colitis Foundation), which provided me professional coaching, a personalized training plan, team practices, advice on swimsuits, bikes and running techniques and more support from my teammates than I could have ever imagined.
Within 16 weeks, I was well-trained, mentally prepared and ready, albeit nervous, for my first sprint triathlon. But because of the coaching and support I had received from those more experienced, I placed first in my division and I now have a life-long (obsession) love for triathlons.
Now, just imagine that a triathlon is the equivalent to selling disability insurance. You might not have a lot of experience in that area, but maybe you're ready for a new challenge and you have an extensive background in life and health. As I said with triathlons, it's possible to sign on to selling disability insurance and train yourself on the product, regardless of your experience level. But is that the best way to begin selling a new product? Probably not.
When learning how to do something new, whether it's to compete in a triathlon or sell disability insurance, it's best to get the advice of those more experienced than you.
Here are some steps to take when selling disability insurance:
1. Get a coach: Think of DIS as your professional coach who's there to guide you and give you the tools needed to finish a race successfully. A coach's experience far outweighs any assumptions you might have about selling a new product. On your own you might eventually make a sale, but with the help of a coach, you could make a living.

2. Get the right equipment: Can you swim in open water without a wetsuit? Of course. But why would you if you don't have to? Wetsuits keep you warm, make you more buoyant and can even make you faster. The same can be said of our Broker Computer Assisted Marketing (BCAM). Can you sell disability insurance without it? Probably. But why would you want to?! BCAM provides you with free E-blast templates, a customized quote engine for your website and a customized signature quote link. Your sales will be more likely to stay afloat and you'll sell DI more quickly than without it.
3. Don't just stick to the basics: When I first joined Team Challenge, I was told I could compete on my husband's mountain bike. And I'm sure I could have. I even saw one man riding a beach cruiser during my first race. But instead I chose to get a newer road bike and I destroyed that beach cruiser-riding competitor. As I've continued to race, I've invested in new bike shoes, a nicer saddle and I'm currently looking to add aero bars. I don't need all of these added tools to finish a race, but they sure make me a faster competitor. When selling disability insurance, you can get by on just knowing the basic provisions of a DI contract. You don't need to know more in order to make a sale; however, if you do your research and become an expert on all the DI riders and various policy provisions, you'll become a stronger competitor in the DI marketplace. You might start off selling a stripped-down simplified issue DI policy, but you'll want to quickly learn about your options when the "race" gets harder (meaning your clients might have health issues, interesting financial situations or DI already in place).
4. Stick to a training plan: Once I finished my first race, I didn't just stop training. I signed up for progressively harder races and continued to work my butt off. Just because you've made a sale or two, it doesn't mean the DI training ends. Keep learning from others in your field through blogs like ProducersWeb.com and stay up-to-date on the industry through places like LifeHealthPro.com and InsuranceNewsNet.com. For specific DI sales training, check out some of our webinars and our blog. You can always better yourself and increase your DI knowledge.
If you're new to something, it's okay to look to others for advice. Put in the time and work and you'll be making DI sales in no time. You can even think of those commissions checks as the free banana after the race.
Ready to kick off your training? Start by learning the three secret questions that create sales breakthroughs. Where do you get this amazing know-how? Right here.
Please follow and like us: