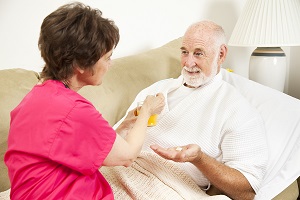 The United States may be facing a long-term care crisis. As the population ages, more and more older adults will need long-term care services to help them with the activities of daily living, like bathing, dressing and eating. These services are not typically covered by health insurance. They're also incredibly expensive – and the costs are rising.
Long-Term Care: A Common Expense
According to the U.S. Department of Health and Human Services, most older adults will need long-term care services. Approximately 70 percent of people turning 65 now will need long-term care at some point, and the average length of care is three years.
Care can be provided in the person's home or in special facilities. There are also different levels of care. However, regardless of these differences, professional long-term care services are always expensive. The average national costs from 2016 are jaw-dropping:
$6,844 per month for a semi-private nursing home room
$7,698 per month for a private nursing home room
$3,628 per month for a one-bedroom unit in an assisted living facility
$20.50 per hour for a health aide
$20 per hour for homemaker services
At these rates, three years in a semi-private nursing home room costs almost $250,000. A private room will cost significantly more. Meanwhile, part-time homemaker services can easily cost $62,400 at 20 hours a week for three years. If you need full-time help, double that cost. And if you need skilled nursing care? It will cost even more.
But these are the 2016 prices. Since then, costs have gone up.
Aging In-Home Is Becoming Unaffordable
Many Americans want to age in place, meaning they want to stay in their own home rather than move to a nursing home or other facility for seniors. The United States of Aging Survey found that 90 percent of seniors plan to continue living in their own home for the next 10 years: 85 percent say they like their current home and 26 percent say they couldn't afford to move.
But aging in-home can also be expensive. Many seniors require help from health aides and homemakers services, and as the figures above show, that help doesn't come cheap.
And it's getting worse. According to an article published in the Washington Post, the cost of in-home care is rising. The cost of homemaker services increased 7.14 percent in 12 months.
How Will Your Clients Afford Care?
When people plan for their retirements, they don't always consider the cost of long-term care. Some may assume that their costs will be covered by health insurance, but this isn't true. Original Medicare, for example, may cover skilled nursing care when it is medically necessary, but only for a limited period of time. Other long-term care services are not typically covered. Many other health insurance plans have similar coverage rules.
This is why long-term care insurance is so important for many older Americans. Talk to your clients and see if they can answer these important questions:
Have you thought about long-term care? With seven out of 10 seniors requiring care, it's something that everyone should think about.
Do you know how much long-term care costs? It's probably much more than your clients realize.
How will you pay for long-term care? If your clients don't have a realistic plan, it's time to consider long-term care insurance.
Contact me if you have questions or would like to discuss a case.