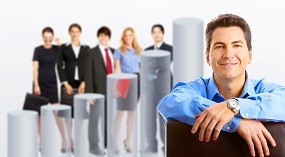 Eleven months of gains in job growth sets the stage for a strong 2017 for disability income insurance. Three well-documented trends, outlined in a report by Glassdoor, indicate 2017 is shaping up to be a great year for disability income sales.
1. Robust job growth
Through November, 1.98 million new jobs were added to the economy in 2016. The monthly break-even point of new job growth is 50,000 – 110,000. This year the new job monthly average is 180,000. As more workers are employed, the market for disability insurance grows.
2. Income growth
The important story this year is that wages are growing too. Across the board, median wages have risen 3.1 percent, inflation only 1.5 percent. The net growth of 1.6, although small, means more discretionary spending power. Some workers have seen salary increases of twice that much. Blue collar wages are slightly ahead of the average in general, and the median wage of certain jobs like machine operators or construction workers grew by 7.3 percent and 8.6 percent respectively. In the health care field, another employment category with solid wage and new job growth, wages for pharmacy technicians, registered nurses, and medical assistants increased between four and six percent. The median household income increased by 5.2 percent in 2015 to $56,516 closing in on a high of $57,909 in 1999.
3. Competitive labor market
The pace of job growth is putting pressure on hiring managers. According to the Bureau of Labor Statistics, as of April, 5.98 million jobs were vacant, putting prospective employees in a strong negotiating position. Adding to the Human Resource troubles is that there are fewer job searchers as more and more workers are employed. Companies consciously leverage their brand to attract applicants and employee benefits is an important component of their reputation as a preferred employer. Today's millennials prefer generous benefit package to higher salaries. There is evidence that employers are increasing their investments in benefit packages. An opportunity for multi-life disability sales.
How to leverage these trends to increase disability income sales
Along with the opportunity comes a familiar challenge. Employees and employers undervalue the importance of disability insurance and overestimate the cost of income protection.
However, with more than half of employers offering disability insurance as a voluntary coverage compared to only 32 percent in 2012, recognition of the importance is growing. Education is key. Talk to your business clients about the importance of disability insurance, the risk of becoming disabled, and the affordability of voluntary coverage. Many employers are taking steps to improve their teams' financial literacy. Disability insurance is an important part of that process.
Carriers realize Millennials are the future market of paycheck protection and are using social media to increase the awareness of disability insurance. Last year, MetLife developed a series of videos "Who I Live For", that introduce the importance disability insurance.
Wages are up, employment is up, employers are looking for ways to enhance their brand with attractive benefit packages and carriers are targeting millennials as the next market. All indicators are bright for disability sales. Now it's up to you to show employers the way.
The easiest way to increase disability insurance sales is by putting the team at DIS to work for you. We have the expertise, product offerings, and marketing savvy to help you make DI a successful line of business for your practice.  Call us today for a quote or to learn more about becoming successful with disability insurance.  Also, download our client handout that outlines three smart Multi-Life DI options, "Work Smarter, Not Harder with Multi-Life DI."
Please follow and like us: